The C-1071A "BlueBeam" translates IR commands from a universal remote control to Bluetooth® signals that control the Sony PlayStation 3. Works with any IR remote control capable of sending Sony Playstation commands, including Logitech Harmony and other programmable remotes.
Enables all PlayStation 3 remote commands, including off/on. Powered via two AA batteries (included), USB, or power supply (optional, not included). Requires no physical connection to PS3. Works with almost any programmable remote.
Purchase here
www.ShopHHTS.com
System Diagram 1: BlueBeam with External Power Supply
In this system, the BlueBeam is used with an optional external power supply (Model 571-013). No physical connection to the PS3 is required, and batteries are not used. The installer must simply pair the BlueBeam with the PlayStation 3 console and plug in the power adapter.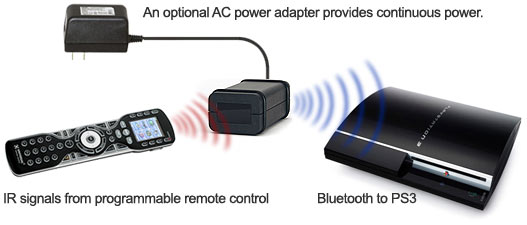 ---

System Diagram 2: USB and Battery Power
To avoid a bulky power supply, the BlueBeam (Model C-1071) can use its internal AA batteries. To maximize battery life, the installer may connect the BlueBeam to the PlayStation 3 with a USB-A to USB-Mini cable. Battery power is used to recognize "power on" commands, but once the PlayStation 3 is active, power from its USB ports takes over operation of the BlueBeam. Battery life in this configuration is 1-2 years.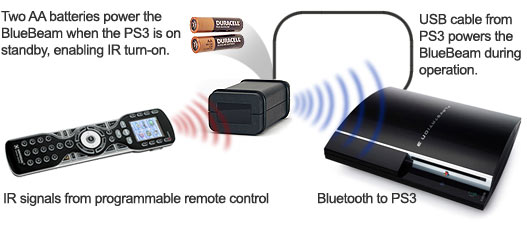 ---

System Diagram 3: Totally Wireless Operation
For maximum installation flexibility, the BlueBeam's internal batteries enable totally wireless operation - no power cords, USB cables, or any other physical connection. AA battery life is typically six months to one year in this configuration, similar to the life of disposable remote control batteries.